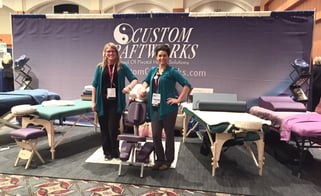 Custom Craftworks is passionate about helping schools and students by subsidizing classroom equipment. We believe students deserve to learn the art of massage utilizing high quality tables, chairs and accessories. Learn more about our Advocate Program and Tables with Tuition program below.
---
Advocate Program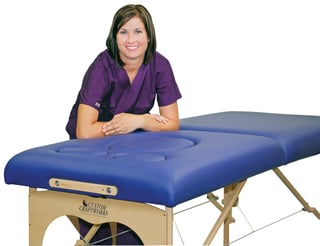 Custom Craftwork's Advocate Program makes it easy for educators to offer students a generous discount on tables and supplies as well as consultative services.
How It Works For You
We'll give you brochures and sales fliers to pass out to your students.
Interested students can call Custom Craftworks. Our trained staff consults with them to choose the right equipment for their needs.
We invoice your student. They can pay us by debit/credit card or mail in a check.
We will ship directly to your student.
The student receives a discount on all products ordered.
Advocate Schools are entitled to all of the sales support and programs we offer.
Does this sound like the program for your school? If so, please select the "Advocate- Custom Craftworks" option on the "what role best describes you" field on the form.
---
Tables With Tuition
Tables With Tuition is a basic program that is both easy to implement and rewarding. During enrollment for students, Custom Craftworks will provide a high quality Custom Craftworks massage table and/or massage chair package as a part of the program which will enhance the value of your program.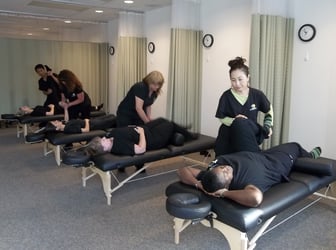 How It Works For You
Your school simply has to designate the times during the school year preferred to order equipment.

We will design a program that best fits the time constraints of your faculty.

You may standardize the color you select for your school, or allow student choices.

You can call, e-mail or fax the orders in. We provide an easy order form with all of your information. No searching for account numbers etc., just provide a P.O. (If required) and number of packages. We will take care of the rest!

Once the tables ship, you will receive a tracking number so you can prepare your students, and your space, for the arrival of equipment. You may also choose to have the tables drop shipped directly to their homes so you do not have so many big boxes in your lobby.

As you can see, along with competitive pricing, support from your vendor is extremely important. Our customer service team has often been called the best in the industry. We invite you to contact us and put us to the test.
Does this sound like the program for your school? If so, please select the "School/University Bookstore Retail Services" option on the "what role best describes you" field on the form.
---
School Property Program
Click below to learn more about another customizable program for massage therapy training programs and schools!