Download our eBook below
Massage Therapy: Tips When Considering Working Within Somebody Else's Practice
Thanks for downloading our "Massage Therapy: Should Your Add it to Your Practie?" eBook to learn more about the powerful application of massage therapy and how to incorporate it into a chiropractic practice!
---
Shop our products!
No matter what setting you practice massage therapy in, Custom Craftworks is here to provide you with all of your massage therapy needs.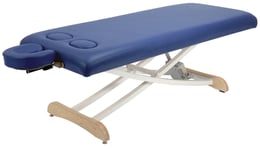 American Made- Elegance Basic
We combined stability with style with our Elegance Basic Electric Massage Table. Add breast recess or prenatal options for even greater client comfort.