Student Discount Program
Gain the Advantage with our Student Discount Program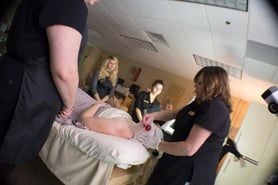 Custom Craftworks is passionate about helping schools and students by subsidizing classroom equipment. We believe students deserve to learn the art of massage utilizing high quality tables, chairs and accessories.
We are proud to partner with your school to offer you not only a generous student discount as part of our School Advocate program, but also a warm welcome to a larger massage community of learners to support you on your journey to become a massage therapist.
Expert sales support is only a click away to help you select the right equipment for your needs, and all products will be shipped directly to your door.

Here are your next steps……
Fill out the form.

Receive your student discount code and digital catalog via email.

Your school discount code will give you 20% off every purchase.
If you don't see the email in your Inbox, please check your Junk folder.
Visit customcraftworks.com to select your products and redeem your code.

Your products will ship directly to your location.